Fruits preparations
Discover a unique range of high-end fruit preparations. Authentic recipes with no preservatives, colourings or artificial flavours. Combining superior quality and daring flavours, the Léonce Blanc range is available from your local supermarket.
Single flavour range
With 65% fruit and 20% less sugar than regular jam, this range celebrates the flavours of each fruit.

Discover the recipes : Apricot, Strawberry, Fig, Orange, Cherry, Raspberry, Red fruits, Blueberry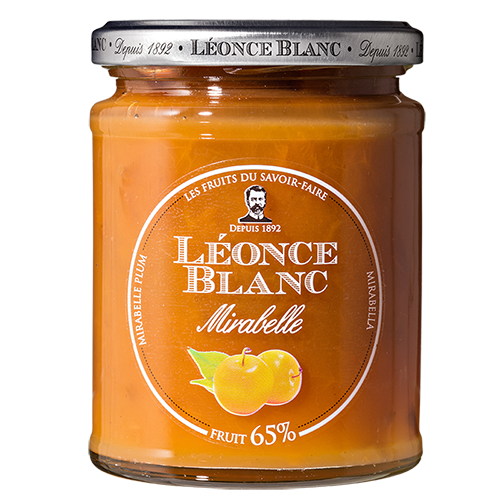 Mirabelle plum – 330g
In this recipe, Léonce Blanc celebrates an essential fruit, the plum, and one of its best representatives: the Mirabelle. With its golden colour, its balance between sweetness and fruitiness and its melting texture, whenever you eat this new Léonce Blanc recipe you will find the original qualities of the Mirabelle plum.
4 citrus – 330g
The 4 citrus recipe with orange, clementine, lemon and grapefruit. It is a perfect balance between the sweet mildness of orange and clementine and the subtle notes of lemon and grapefruit. It will delight citrus lovers who can mix it up with these flavours and it will win over other fans of fruity recipes thanks to its mild flavour.
Flavour range
Recipes with refined and original flavours, with 60% fruit for gourmet moments.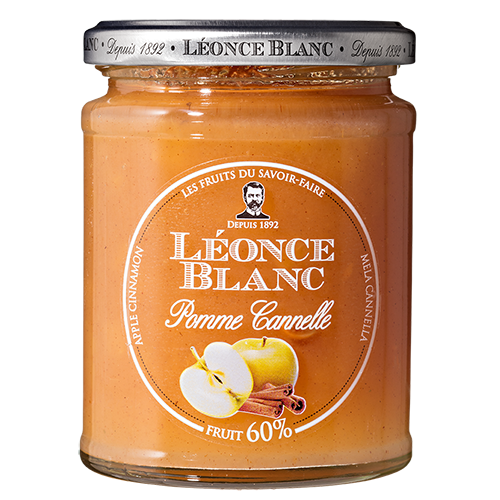 Cinnamon Apple – 330g
By selecting its apples for their taste and texture and combining them with a hint of cinnamon, Léonce Blanc has created a new and particularly refined recipe.
With its texture that combines creaminess and pieces of fruit and its flavour that associates sweet apple and the richness of cinnamon, this new recipe will be ideal for the breakfast table and for festive occasions, to serve with main courses or desserts
205g Léonce Blanc range
An even more elegant range with its transparent label showing off the visual qualities of the product.
A jar in a size adapted to all fruit lovers, from the smallest to the greediest, looking for something different from one recipe to the next!
Raspberry Lychee, Blueberry-Cranberry, Orange-lime et 3 « classical » Léonce Blanc : Strawberry, Apricot, Fig-pear.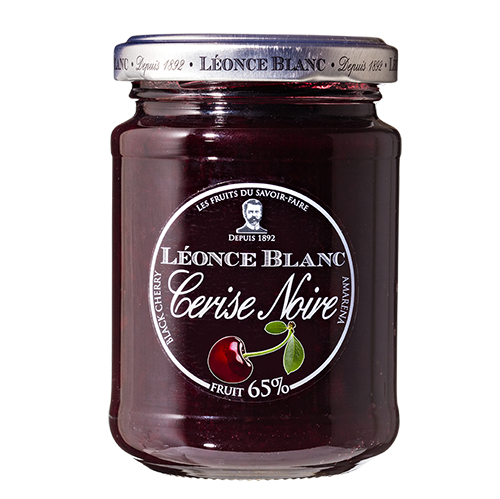 The black cherry attraction
Black cherry – 205g jar.
A recipe made with black cherries selected for their specific original qualities, in particular their mild, sweet and full-bodied flavour which makes them particularly delicious. This recipe with its high fruit content (65%) is prepared using a specific cooking method that helps keep the cherries whole or in big pieces, with a soft texture inside. An ideal recipe for breakfast or afternoon tea or something a little different; it goes very well with some cheeses and main courses with its mild, fruity notes. The 205g size is ideal for the table, with a main course of a cheeseboard.